St.Matthew's Church
Eglwys St.Mathew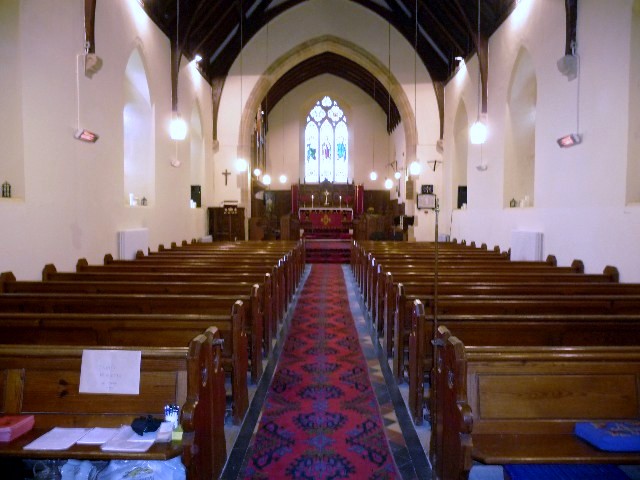 Services
1st & 3rd & 5th Sundays – 11.15am Holy Communion
2nd & 4th Sundays - 11.15am Matins & Sunday School
---
First dedicated on 15th September 1879.
Our church has some beautiful Stained Glass Windows and thanks to the inspiration of Ray Quant, churchwarden, and the hard work of members in fundraising, it has recently been renovated and refurbished at a cost of over £120,000. A disabled access and Hearing Loop have been installed and so has our new project the loud-speaker system. Most of our services are in English.
Contact number for Clergy at present: Ministry Team Leader: Rev. Andrew Loat - 624-638
Also: Canon S. Bell : 872716
Vicar's Warden - Margaret Griffiths
Phone: 01970 871056 - Mob 07523 586074
E-mail:

This email address is being protected from spambots. You need JavaScript enabled to view it.
People's Warden - Mrs. Susan James, Doveybelle, Borth.
Phone: 01970 871355
Secretary: Mrs. Margaret Griffiths - As above
Treasurer: Mrs. Jo Jones.
Phone: 01970-624020
Organist - Michael James, FRCO. Michael has been the sole organist for fifty years, despite the affliction of blindness
.
---
The New Resurfaced Vehicle Access Road to St. Matthew's Church is NOW OPEN
Turn down the lane at the side of Doctor's Surgery & follow road towards the Old Council Tip. Turn left before Borth Wild Animal Kingdom & follow the new road to St. Matthew's Church.
The previous Railway Crossing Gate route is still in use, but will not be manned for any Church services. Please use yellow phones if you are crossing there.
We have a small carpeted area where children can read and draw during the services and parents are welcome to go out into the Sunday School with their children until they feel confident to go out alone. Children are most welcome at any service. We have a Sunday School room in the church grounds called the Den. Sunday School is the same time as Sunday Services. The children are very welcome and we often help out in church services.
Mother's Union meets at 2.00pm, on the first Monday of each month, in Cairn Cottage, the home of our enrolling member, Joyce Berryman. New members are always welcome.
We have a 200 club draw on the second Wednesday of each month, at 11.00 am at Dovey Belle, High Street, Borth. It costs £12 a year, paid in advance. New members welcome at any time of the year. Telephone Susan James on 01970 871355 for information.
During the year, we have coffee mornings, United Parish lunches, Harvest suppers and we share in the Village bazaars in June and December. We unite with our local churches for the Women's Day of Prayer services and Christian Aid Coffee morning and service.
St. Matthews church is used for baptisms, weddings and funerals. For details about these please contact the Rev. Andew Loat - 624-638

Visit this site regularly for news of forthcoming events in our church. We would love to see you there with us.

Croeso cynnes i bawb / All welcome.