Cheerful with Insufficient Reason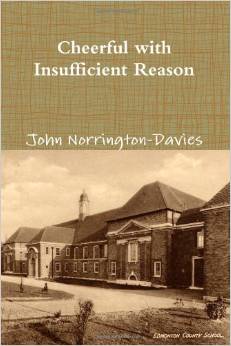 Cheerful with Insufficient Reason
by John Norrington-Davies (Author)
Within this book lies the story of a London-Welsh Grammar Schoolboy who attended the Edmonton County School in North London between 1938 and 1943.
Devoted to extra-mural activities he became practised in the art of damage limitation when required by the teaching staff to account for his manifold shortcomings.
There was no irrelevance too great that was not pursued with vigour in preference to that of academic attainment. Bombed and strafed by the enemy a fertile imagination turned to deeds of derring-do yet to come; heroic deeds to be engaged upon, varying over time, according to the film of the week.
The schoolboy analyst examines, in relation to those times, family, war, education, religion, agriculture and personalities; even sex is touched upon, but tastefully! Webplus Amazon