Thring of Uppingham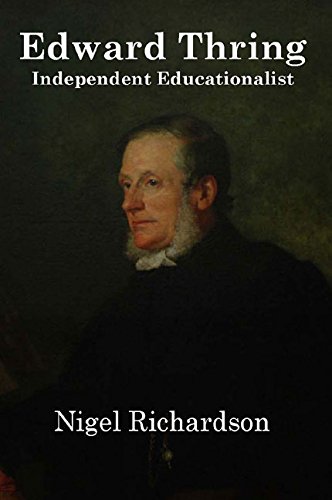 Thring of Uppingham
Victorian Educator
Nigel Richardson
University of Buckingham Press: £25
In April 1876 the best-known boarding school headmaster of his generation, Edward Thring, moved Uppingham School nearly 200 miles from its familiar surroundings in the East Midlands to the Welsh coast at Borth. His dramatic decision followed three outbreaks of typhoid in six months, which had killed several of his pupils and threatened to close his school permanently.
By starving the town of Uppingham of the school's custom, Thring was determined, to force its local leaders to provide mains water and better drainage. He brought with him to Borth beds, furniture, even the school cricket roller, on a specially chartered train. Once there, and befriended by a kind local aristocrat, Sir Pryse Pryse of Gogerddan, he installed himself, masters and pupils in the Cambrian Hotel and two dozen cottages on the seafront until it was safe to return home. Initially he expected to remain in Borth for only a few weeks, but as things turned out he had to stay for an entire year, through one of the stormiest winters on record. It was an extraordinary feat of improvisation, which coincided with the opening of St Matthew's church, where he preached several sermons and his pupils held fund-raising concerts.
No full scale biography of Thring has ever been written before despite the fact that he was headmaster of Uppingham for 34 years (1853-87), and the founding host of the Headmasters' Conference of leading UK independent schools (1869). He features prominently in all the educational histories of his period, and he was the best known figure in independent schools in the generation after the famous Dr Thomas Arnold of Rugby.
The book draws extensively on letters, newspapers and other documentation recently discovered in archives in both Britain and Canada. It includes much new material about the school's year at Borth. It also explains the nature of Victorian boarding schools; Thring's battles with the newly-formed Charity Commission; his tempestuous personality and the effect which it had on those around him; his significance as the driving force for a pioneering Mission in London's East End; his passionate belief in child centred approaches to education; his growing reputation abroad (especially in North America); the bitter personal cost of achieving his vision and the struggle between his friends over who should be the editor of his letters and diaries.
Nigel Richardson taught history at Uppingham (1971-89). He was Head of the Perse School, Cambridge (1994-2008) and Chairman of the Headmasters' and Headmistresses' Conference (HMC) in 2007. His Ph.D. thesis and monograph (University College, London, 2007) centred on Uppingham's typhoid outbreak.
For further details, please see Amazon