Borth Arts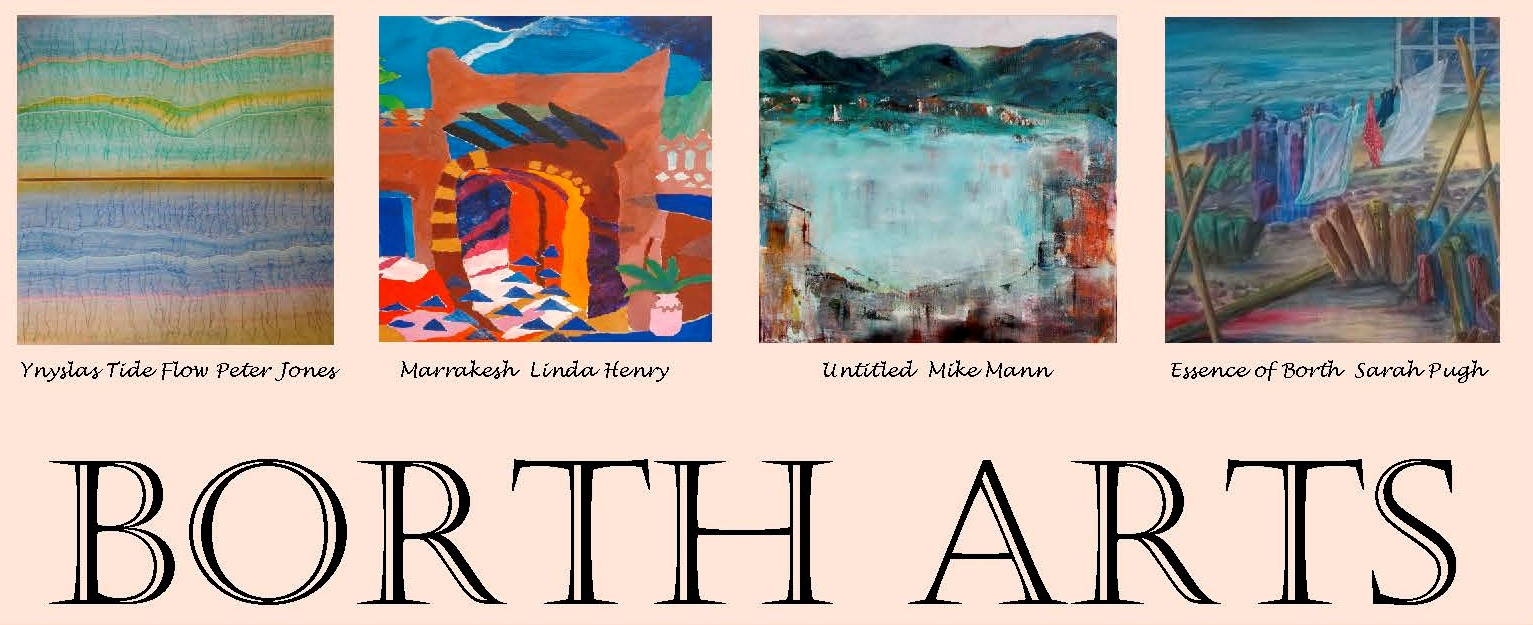 Borth Arts is a group of artists who live and work in Borth or Ynylas. It grew out of a desire to promote Borth and Borth artists through joint exhibitions and activities. Currently, the group comprises of artists, a curator, administrator and an interpreter.
Within Borth, there are many accomplished artists practising the creative arts. It is hoped that, with time, the group will increase in size, becoming more inclusive, and thus broaden the scope and range of artistic and cultural activities represented.
The group aims to support artists living and working locally, not only providing opportunities for exhibiting their work, but also creating opportunities for the sharing of expertise and the learning of new skills. We believe that arts and culture play an important role in the enrichment and wellbeing of the wider community
For information about individual artists, images of work and details of exhibitions, please see the Borth Arts Facebook page
Events
A Second Exhibition for Borth Arts
Mid Wales Arts Centre, Caersws
After a successful show at Oriel Queen's Gallery in Narberth, Borth Arts have a second exhibition at Mid Wales Arts Centre in Caersws.
'On the Edge' is an exhibition of work by a group of artists living and working in Borth and Ynyslas. Using a variety of media and techniques, this diverse group is connected and inspired by the unique environment of Borth – sea, beach, mountains, colour and ever changing light. Both artists and location are trapped between the sea and the mountains.
Curator Gwenllian Ashley, says, 'Borth is an ugly, beautiful village and the work reflects this. Some escape into other lands, others paint the grim realities of living on a storm beach, but all have an affinity to their village and its idiosyncratic view of life.'
Work is on show by Gabrielle Adamson, Mikey Bailey, Bodge, Lynne Dickens, Stuart Evans, Linda Henry, Neil Johnson, Peter Jones, Becky Knight, Mike Mann, Ruth Packham, Sarah Pugh, Marie-Pierre Rowland, Eve Smith and Catrin Webster,
The exhibition can be viewed at Mid Wales Arts Centre, Maesmawr, Caersws Thursday to Sunday, 11.00am to 4.00pm. The show runs from June 11th until July 16th.