Written by Borth Community Council | 31 January 2016

Y Borth Community Council: Cyngor Cymuned Y Borth
We have a community email group in Ynyslas that has been informally used to send out updates and information periodically.
Residents have been remarking that it has been useful to them. There is no reason why the email group can't be extended.
As a Community Council, we are conscious that even with information on the website, noticeboards and facebook its often not easy to access these means, an email group may reach a few more people - thereby extending the potential for word of mouth updates to those people that don't access information in any of these ways, or regularly in these ways.
---
Weather Information from Borth Community Council
Borth Community Council Newsletter Page.
November 2015
Borth Community Council will, once again, be keeping the toilets open from 1 November through to 31 March, providing an important all year round facility.
This is part of a three year agreement with Ceredigion County Council. Both the toilets outside the RNLI/Coastguard station and those near the railway station on the High Street will be open for beach users, visitors and those walking the coastal path.
Help us keep Borth safe, clean and tidy.
'Fly-tipping is the illegal deposit of any waste onto land with no licence to accept it. Only Household Waste Site and Transfer Stations are licensed to accept waste in Ceredigion. Fly-tipping is a serious environmental crime'.
Borth Community Council has covered the costs of clearing and removing the waste from the Common Land in Borth.
An approved waste management service was used.
The gates to the Common Land will be locked.
100's of bottles have been dumped at the bottle bank in the car park on several occasions, if the bottle bank is full anyone can phone the number on the side of the container. No sheet glass to be left by the bottle bank please.
Cllr. Margaret Griffiths has resigned from Borth Community Council. We thank her very much for all the many years she has committed to Borth Community Council. She has been an active and supportive member of Council and her contributions have been much valued.
She will be missed from Council meetings but we will still see her around - actively engaged in many others areas within Borth!
---
WRITTEN BY CATRIN WEBSTER
If you go down to the beach today...you'll see wooden 'spoons' being attached to the jetty and groynes at the far south of the beach as part of a Borth art project. You may see one you designed.
How they change and weather the sea is also part of the project.
Thank you Catrin Webster.
---
OFFICIAL OPENING OF BORTH TO YNYSLAS COAST PROTECTION SCHEME (PHASE 2)
Datganiad i'r Wasg CEREDIGION Press Release 11-09-2015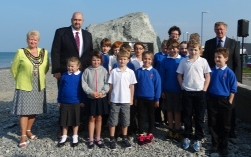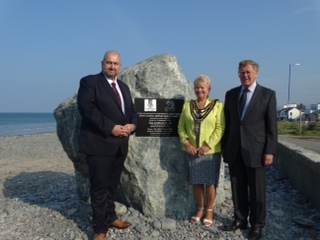 | | |
| --- | --- |
| Carl Sargeant, Minister for Natural Resources with Councillor Gill Hopley, Ceredigion County Council Chairman; Elin Jones AM; Councillor Ray Quant MBE, Deputy Leader, Ceredigion County Council and Children from Craig yr Wylfa Primary School, Borth | Carl Sargeant, Minister for Natural Resources with Councillor Gill Hopley, Ceredigion County Council Chairman and Councillor Ray Quant MBE, Deputy Leader, Ceredigion County Council. |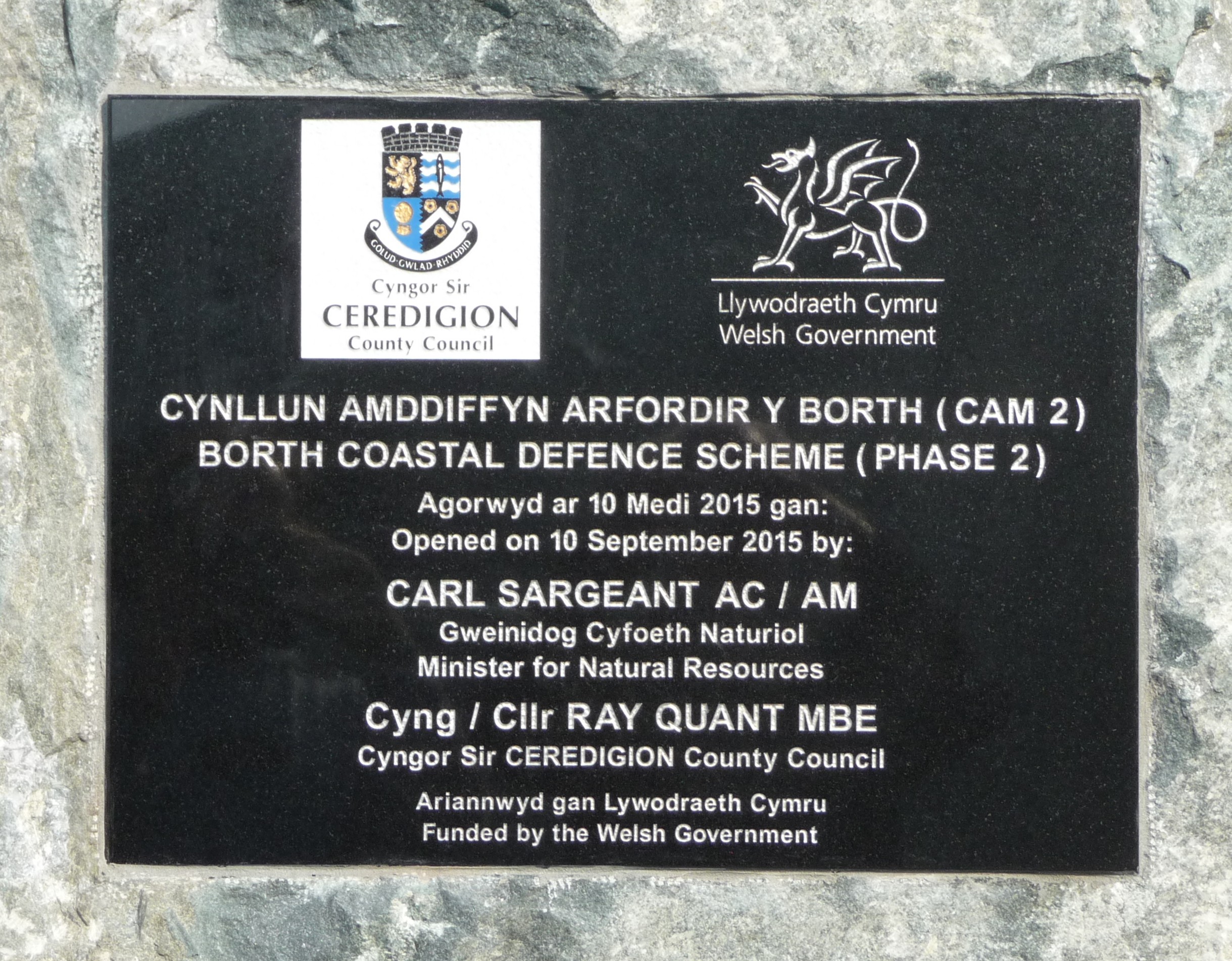 OFFICIAL OPENING OF BORTH TO YNYSLAS COAST PROTECTION SCHEME (PHASE 2)
On Thursday 10 September 2015, the second phase of the Borth to Ynyslas Coastal Defence Scheme was officially opened by Carl Sargeant, Minister for Natural Resources and Councillor Ray Quant MBE, Deputy Leader, Ceredigion County Council. The £4m scheme was funded through Coast Protection Grant from the Welsh Government, bringing the total investment along the Borth frontage to over £18m.
Councillor Ray Quant MBE, Deputy Leader, Ceredigion County Council said "The formal opening of the new Coastal Defence Scheme was an enjoyable occasion. The community of Borth are extremely fortunate and grateful to have a much needed replacement Coastal Defence."
The scheme has been designed by Royal Haskoning DHV, with the main construction works being undertaken by BAM Nuttall Ltd, overseen by a project management team from Atkins, Royal Haskoning DHV and Ceredigion County Council. The completed Coastal Defence Scheme, which will provide current day defence against a 1 in 100 year event, reducing with sea level rise, comprises the following elements of work:
Strengthening of the sea wall to the rear of the beach, which was undertaken in advance of the main works;
The construction of two rock groynes and three rock breakwaters at intervals along the beach to retain the shingle ridge in place;
Burying excavated material under the existing shingle ridge to increase the width of the shingle ridge, thus providing more protection from incoming waves.
In total, almost 80,000 Tonnes of material has been required for the construction works, sourced entirely from Welsh quarries.
Councillor Quant thanked the Minister and Welsh Government officers for their valuable support; the officers of Ceredigion County Council, Royal Haskoning DHV and Bam Nuttall for their outstanding work towards ensuring the success of the scheme and the children of Craig yr Wylfa Primary School for their interest.
Works commenced during May 2014, and now complete, afford the entire village the same level of protection that served the Phase 1 frontage so well during the early 2014 winter storms.
---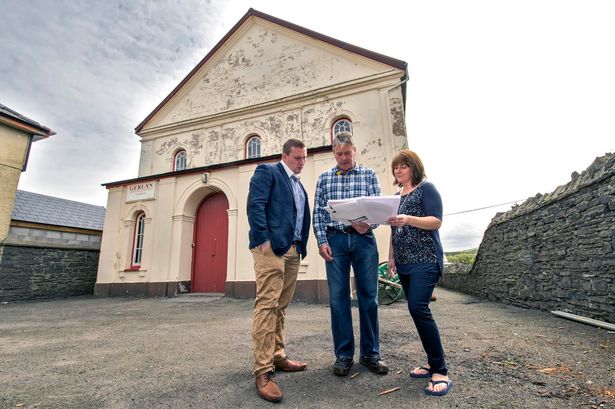 Plans to turn former Welsh chapel into a boutique cinema at the seaside resort of Borth
Gareth Flynn, architectural technologist at Hughes Architects (left) with Peter Fleming and Grug Morris.
Couple Peter Fleming and Grug Morris plan to turn the Gerlan Chapel in Borth into the Libanus 1877 Theatre
---
---
WRITTEN BY ADMINISTRATOR | 14 JUNE 2015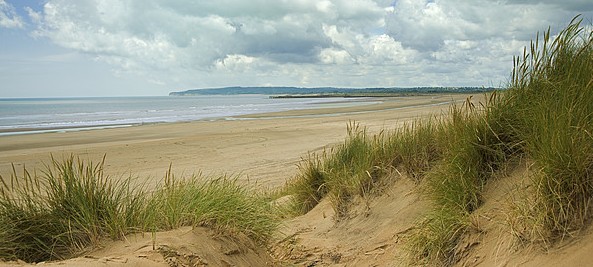 ---
Defibrillators
Hi all,
Two public access heart defibrillators are coming soon to the community! Our grant application to the British Heart Foundation has been successful. We will be providing training on how to use them, if you are interested please register your interest by emailing:
---
BOTTLE & PAPER BANK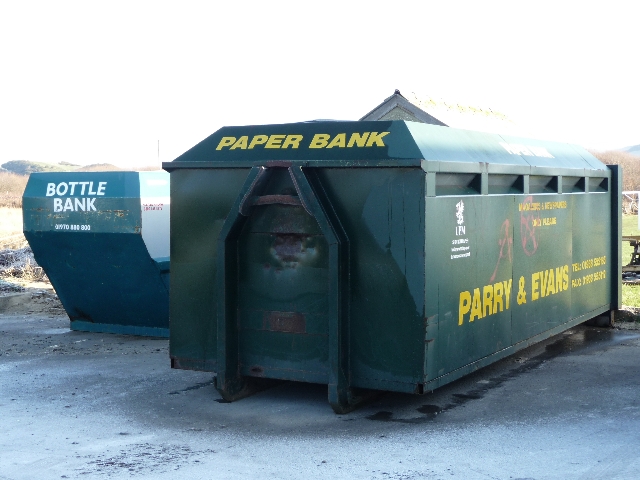 There is a Bottle and Paper Bank on the Car Park opposite Brynowen Holiday Park
---

The Trust aims to make the UK a better place for both people and nature.
Grants range from £500 up to £5,000 in Wales.
Registered charities, constituted voluntary and community groups, Social enterprises Community interest companies (CIC) Not-for-profit organisations and Sports clubs are eligible to apply.
All projects should provide assistance in one or more of the Trust's following fields of operation:
Prevention of poverty; reduction of distress and suffering
Advancement of health
Advancement of citizenship or community development
Advancement of public participation in sport
Advancement of human rights, conflict resolution or reconciliation
Advancement of environmental protection or improvement
Funding is available for projects of up to 6 months in length in Wales that positively impact their local community. Projects that are creative, far-reaching and will leave a long-term impact once completed stand the best chance of being successful.
---
JIMI HENDRIX'S WELSH EXPERIENCE
Borth – a tiny fishing village for which the phrase 'one-horse town' would be pushing it – was surely too far off the beaten track even for him.
---
Have you a village news story or information?