Village News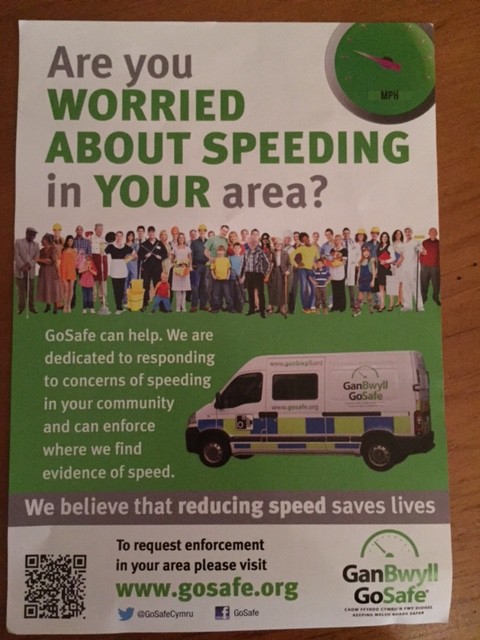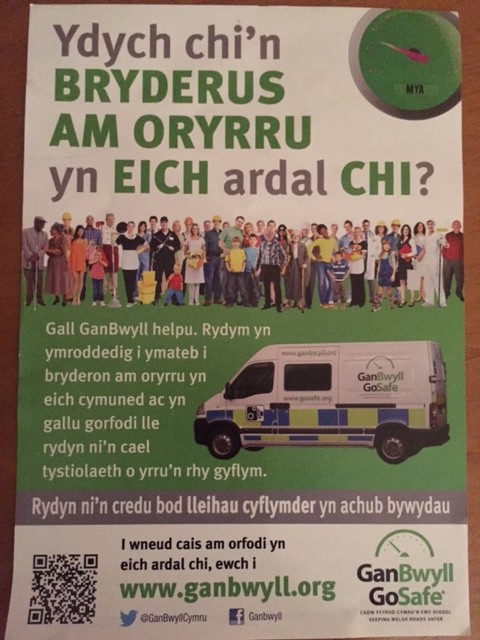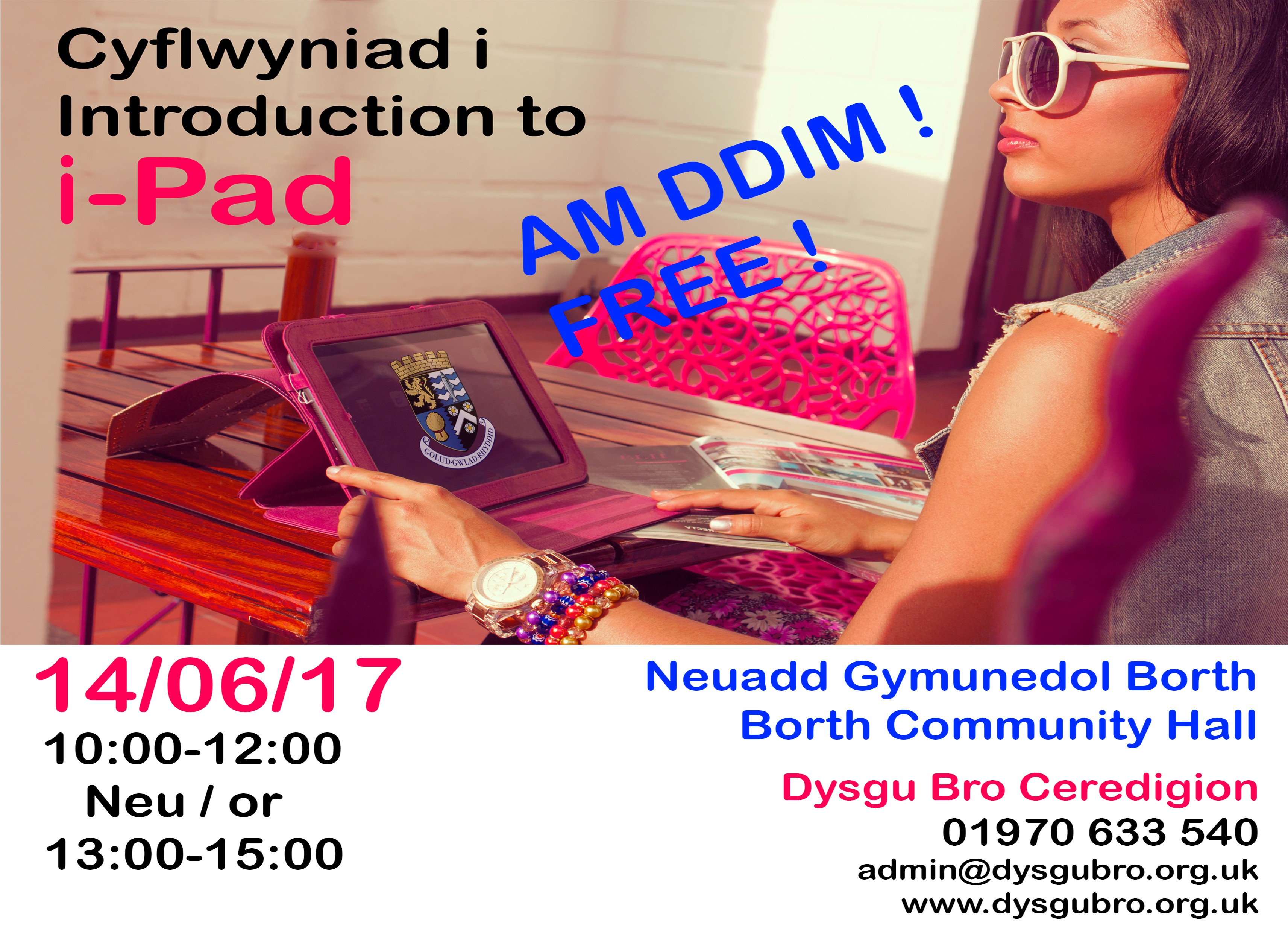 Dear all,
a couple of updates.
Borth Community Council and the Police were out this morning between 8.35 and 9.05 Wed 17th May 2017 and in that half hour logged 6 cars over the limit, the Police take that information away for their records, the Community Council has no further action. Today we also had the Police speeding van person with us to check we were doing it all okay and also to look at another site in Borth, we hope once this new location is improved we will be able to have a third location approved. He shared some leaflets with us about GoSafe, these are attached here. Positively lots and lots of people were taking care driving through the village too.
It would be a big help if we had more people willing to help with such speed awareness activity. If you might be interested, or someone you know might be, do please get in touch. It does take a while to be authorised so its worth starting the process even if its for a later date. You would always be one of three people at any time and there is no follow up action needed, we just need someone to hold the speed radar, another person to verify the results immediately and a person to write the details down, its very straight forward. You wouldn't be obliged to come every time either, the more we have the more of a rotation between people is possible.
Also on the 14th of June there will be an introduction course/lesson on using i-pads from 10:00-12:00 then 13:00-15:00 in Borth Community Hall run by Dysgu Bro Ceredigion Community Learning. The course will be free to members of the public. A poster on this is also on front page of website and around the Village.
Many thanks
Jill
Cllr. Jill Hulse
---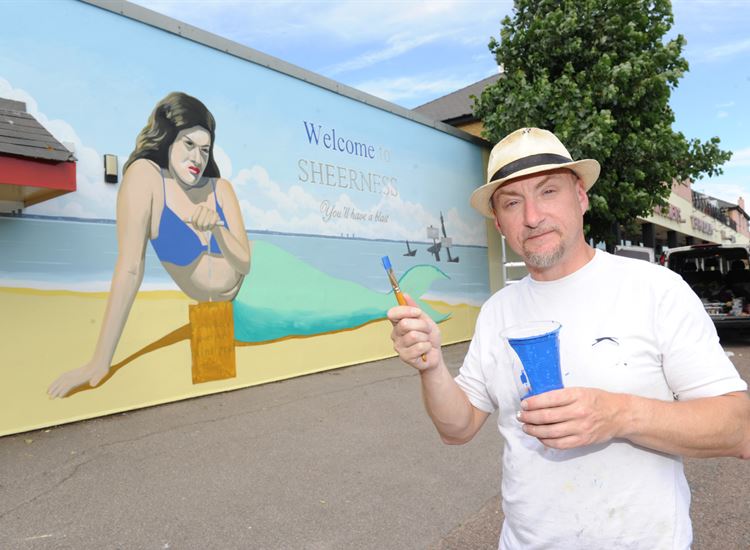 Dean Tweedy of Marvellous Murals has moved to Borth in Wales to run a zoo

Sat 23rd April 2017 By Poppy Jeffery Kentonline
---
Artist plans to install 'iconic' tree sculpture on beach
---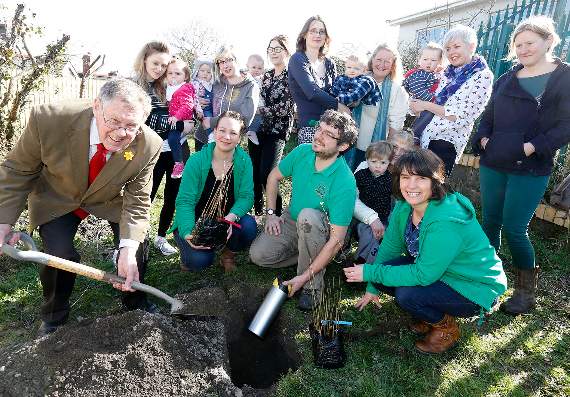 £10,000 grant to fund new wildlife and sensory garden for children
Monday, 27 March 2017
---

Paralympian joins in pupils' sponsored circuit training

Monday, 27 February 2017 By Cambrian News reporter in Education Cambrian News
---
Community councillors take novel approach to dog fouling problem

Friday, 24 February 2017 By Caleb Spencer in Environment Cambrian News
---
Clinical director to step down from healthcare collaborative role
Tuesday, 21 February 2017 By Antony Gedge in Health
---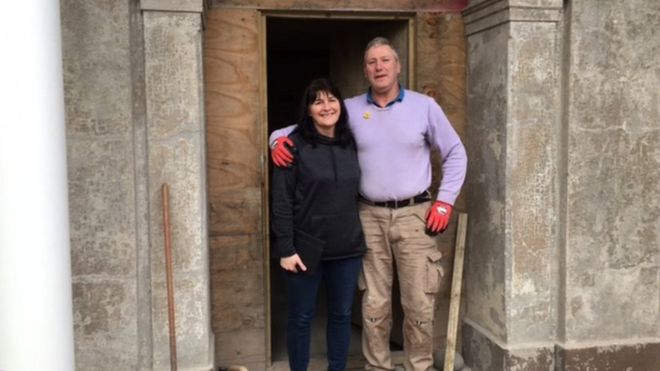 Disused Borth chapel to open as boutique cinema in 140th year
20th Feb 2017
---
These striking images of the Welsh coast are inspired by the women who once lived there.
---
Model boat which washed up on Borth beach returned to US School.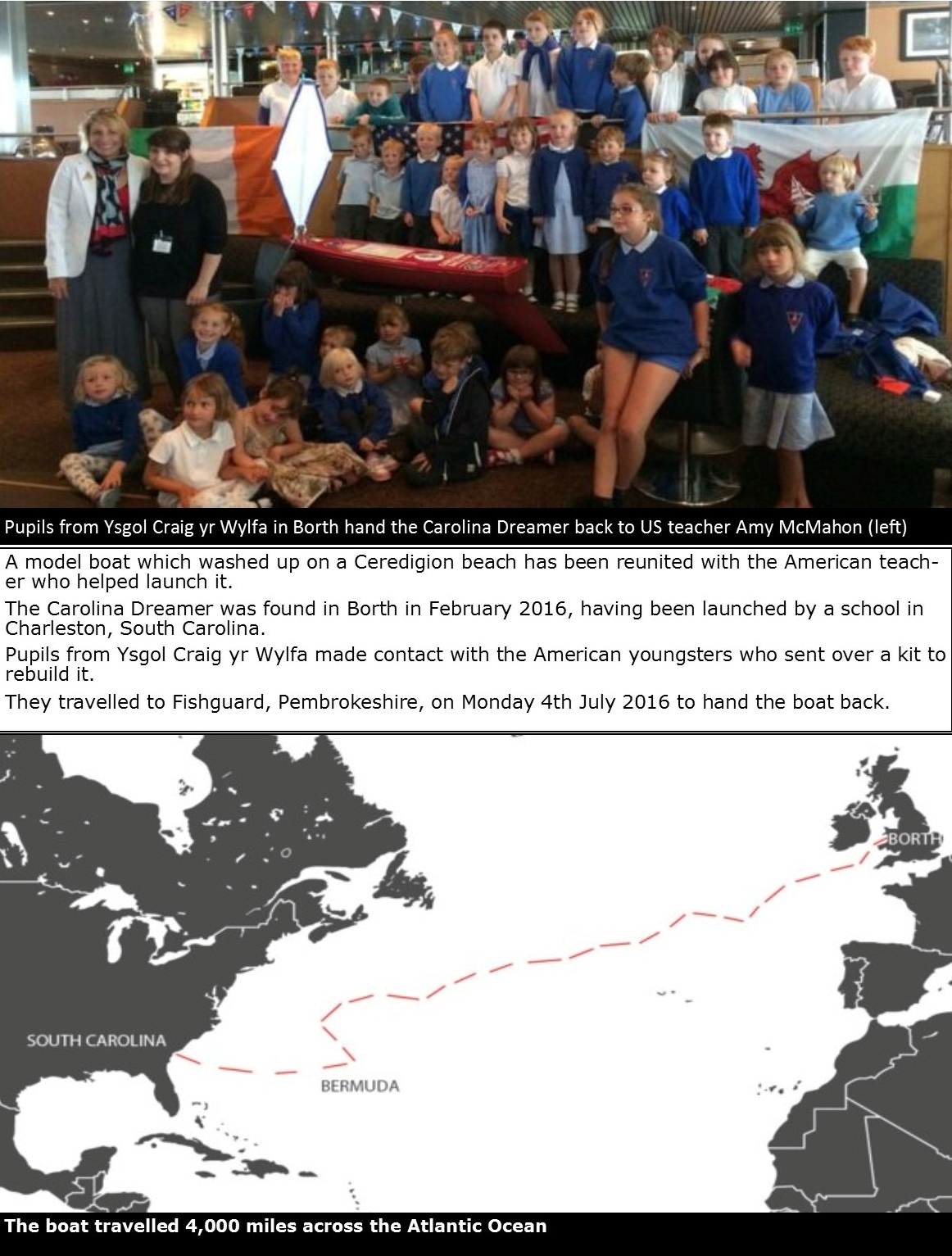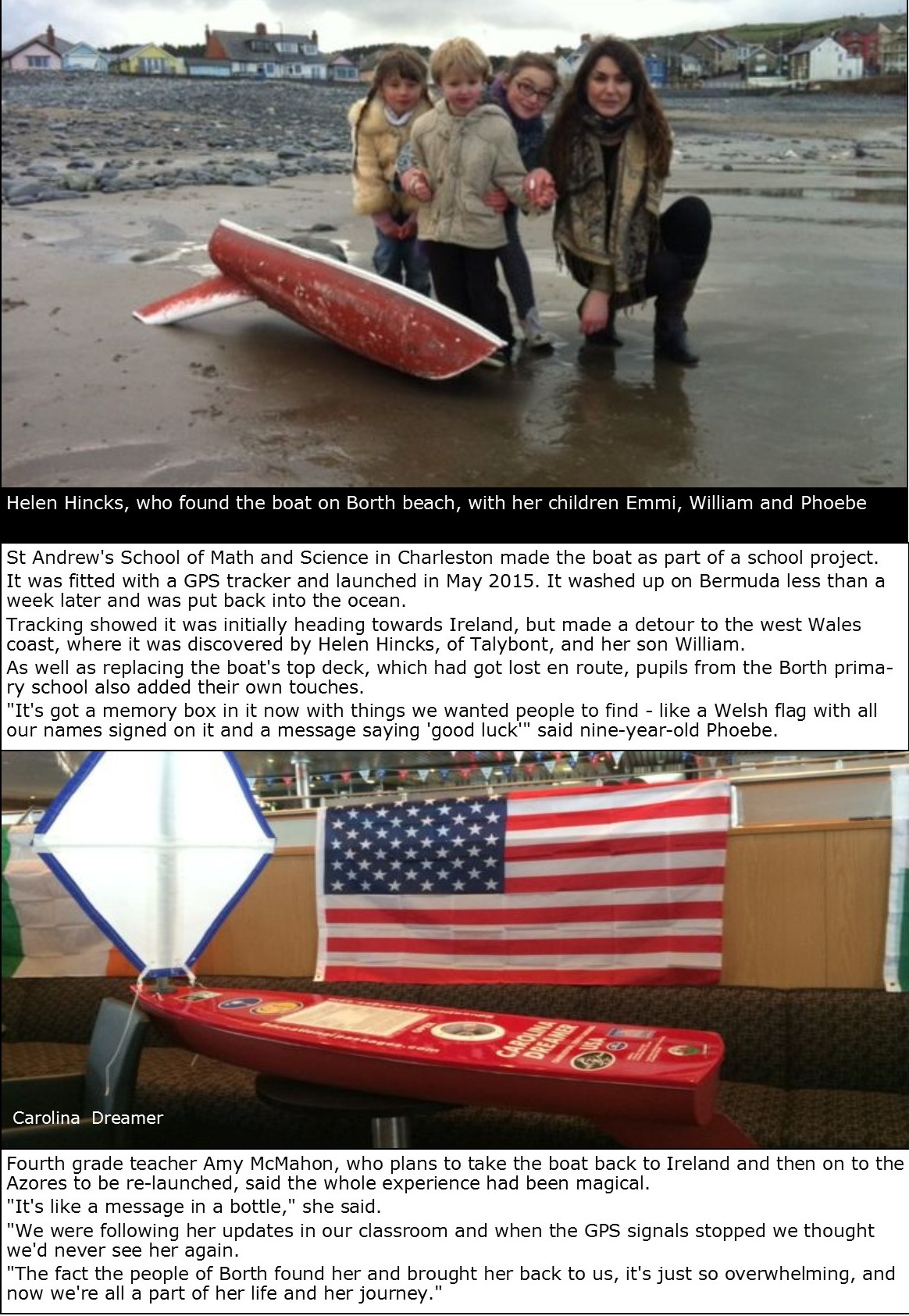 With kind permission of BBC News
---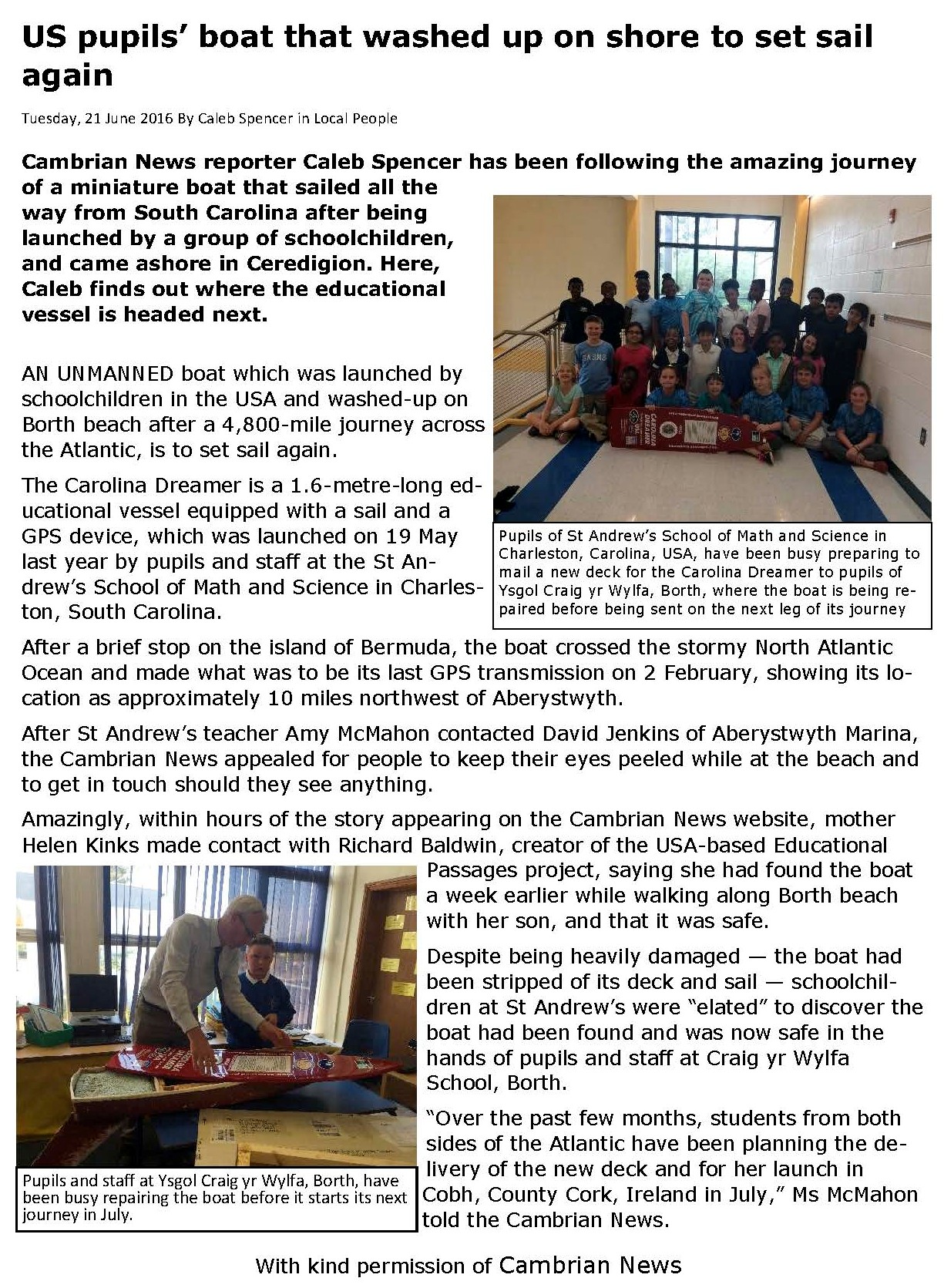 ---
Defibrillators
---
Defibrillators
Hi all,
Great news - the two defibrillators are now available to use in an emergency. One is located at the Community hall and one on the south side of the public toilets opposite Cambrian Terrace/road to the railway.
There is a key to open them, like the key to an electricity box, and it's hanging attached to the box (see photos). If you need to use the defibrillator in an emergency, it will take you through what you need to do step by step with an automated voice recording. Having the training is very helpful but the defibrillators are set up so that anyone can safely use one by following the instructions it gives you. It really is very straight forward.
Our second session for defibrillator/first aid training is now full. We do hope to run another session but do not have any dates yet. We've had a great response to the offer of training.
The two defibrillators cost a lot of money, we were very lucky to have half funding for both of them from the British Heart Foundation- thank you very much. Please help us keep them safe, encourage others to protect them and reporting any problems to us.
Many thanks.
Cllr. Jill Hulse
---
Help us keep Borth safe, clean and tidy.
Dogs are prohibited from the beach area in Borth from the cliffs to the other end of the village by the golf club/Youth hostel between 1st May and 30th September.
Dogs are welcome all year round from the beach by the golf club all the way up to Ynyslas and the National Nature Reserve at Ynyslas.
Dogs should be kept on a lead along the promenade too.
Do please clean up after your dog and use the litter bins provided. Diolch / Thank you
Fly-tipping'
Fly-tipping is the illegal deposit of any waste onto land with no licence to accept it. Only Household Waste Site and Transfer Stations are licensed to accept waste in Ceredigion. Fly-tipping is a serious environmental crime'. The Ceredigion County Council website provides information on what you should do if you discover fly-tipping. Ceredigion Council
If its windy and you put
household rubbish and recycling
out the night before, please try and tuck it somewhere visible but sheltered (not easy we know) or place a weight on top so that it doesn't blow around before it's collected.
Litter bins
will continue to be emptied in Borth and Ynyslas during the holiday periods in 2016. Please can we remind all that
household waste must not be put in the litter bins
.
Please use the
bottle bank
in the car park, if the bottle bank is full anyone can phone the number on the side of the container.
No sheet glass to be left by the bottle bank please
.
---
Weather Information from Borth Community Council
River levels