Datganiad i'r Wasg CEREDIGION Press Release 11-09-2015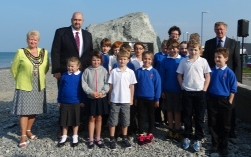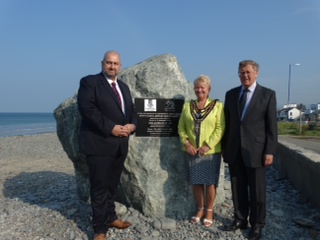 | | |
| --- | --- |
| Carl Sargeant, Minister for Natural Resources with Councillor Gill Hopley, Ceredigion County Council Chairman; Elin Jones AM; Councillor Ray Quant MBE, Deputy Leader, Ceredigion County Council and Children from Craig yr Wylfa Primary School, Borth | Carl Sargeant, Minister for Natural Resources with Councillor Gill Hopley, Ceredigion County Council Chairman and Councillor Ray Quant MBE, Deputy Leader, Ceredigion County Council. |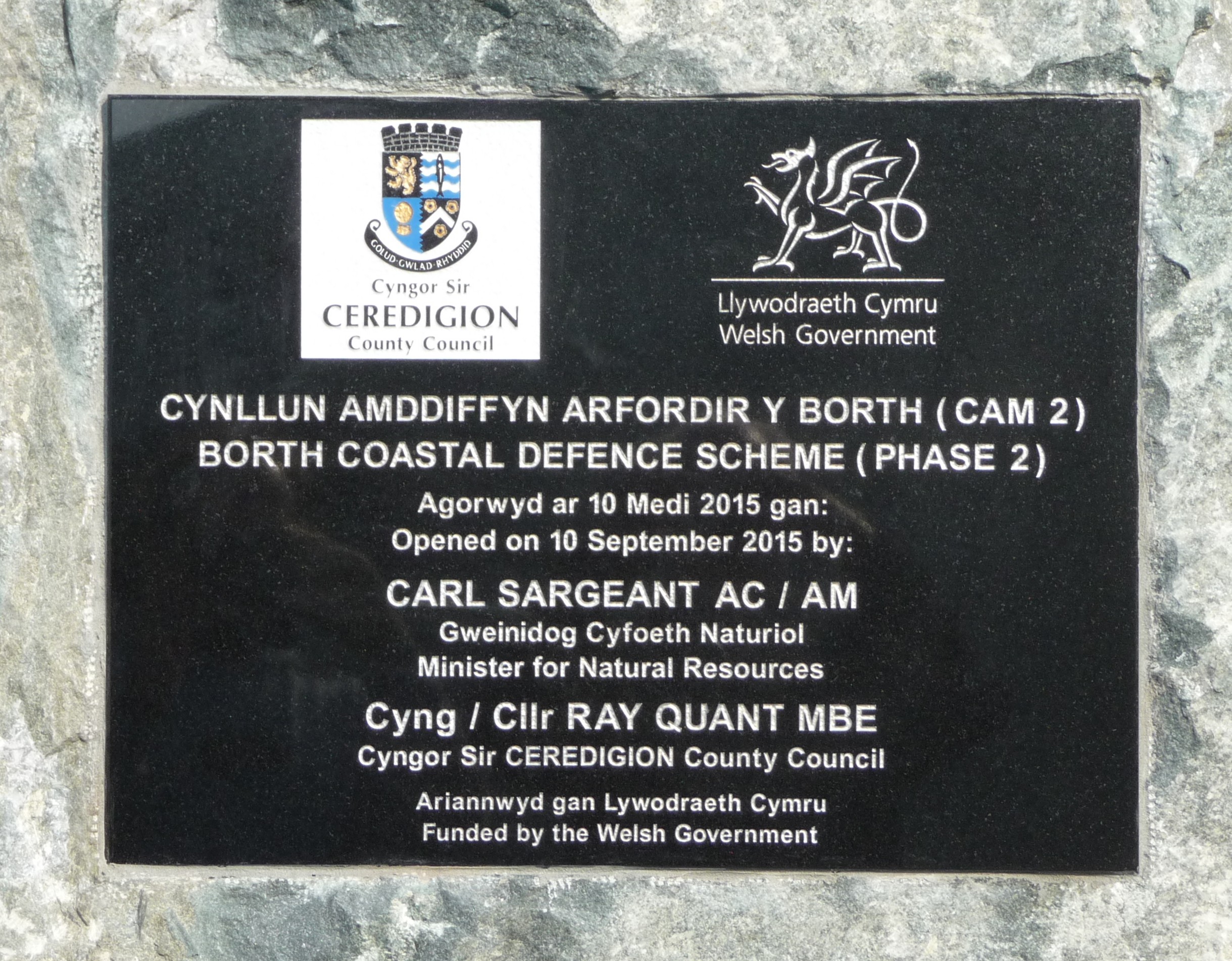 OFFICIAL OPENING OF BORTH TO YNYSLAS COAST PROTECTION SCHEME (PHASE 2)
On Thursday 10 September 2015, the second phase of the Borth to Ynyslas Coastal Defence Scheme was officially opened by Carl Sargeant, Minister for Natural Resources and Councillor Ray Quant MBE, Deputy Leader, Ceredigion County Council. The £4m scheme was funded through Coast Protection Grant from the Welsh Government, bringing the total investment along the Borth frontage to over £18m.
Councillor Ray Quant MBE, Deputy Leader, Ceredigion County Council said "The formal opening of the new Coastal Defence Scheme was an enjoyable occasion. The community of Borth are extremely fortunate and grateful to have a much needed replacement Coastal Defence."
The scheme has been designed by Royal Haskoning DHV, with the main construction works being undertaken by BAM Nuttall Ltd, overseen by a project management team from Atkins, Royal Haskoning DHV and Ceredigion County Council. The completed Coastal Defence Scheme, which will provide current day defence against a 1 in 100 year event, reducing with sea level rise, comprises the following elements of work:
Strengthening of the sea wall to the rear of the beach, which was undertaken in advance of the main works;
The construction of two rock groynes and three rock breakwaters at intervals along the beach to retain the shingle ridge in place;
Burying excavated material under the existing shingle ridge to increase the width of the shingle ridge, thus providing more protection from incoming waves.
In total, almost 80,000 Tonnes of material has been required for the construction works, sourced entirely from Welsh quarries.
Councillor Quant thanked the Minister and Welsh Government officers for their valuable support; the officers of Ceredigion County Council, Royal Haskoning DHV and Bam Nuttall for their outstanding work towards ensuring the success of the scheme and the children of Craig yr Wylfa Primary School for their interest.
Works commenced during May 2014, and now complete, afford the entire village the same level of protection that served the Phase 1 frontage so well during the early 2014 winter storms.