Written by Carnival Committee | 02 August 2013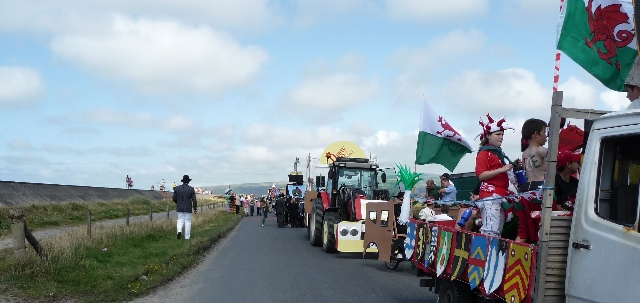 Carnival Day Friday 2nd August
2013
The same as many other towns and villages in the UK, the annual carnival is one of Borth's highlights on the social calendar, floats and fancy dress walkers gather outside the Golf Club, where the judges make their decisions on the best entries, a difficult task sometimes as there are many excellent floats and fancy dress participants.
After the judging, the floats and fancy dress walkers make their way along Borth Village High Street usually led by the
Samba Agogo
band from Aberystwyth, and around 20+ floats, along with lots of groups and individuals, who take part in the carnival yearly.
Lots of local people also decorate their homes in a bid to be named 'Best Decorated House', there are prizes too for the 'Best Decorated Business', too a lot of hard work and imagination goes into each individual entry and every float, as well as all the decorated floats.
Borth Carnival also attracts many individual and walking groups in fancy dress, Borth Mother and Toddlers' Group drew their inspiration one year from the 1970s Swedish super group Abba.
After the procession, the carnival crowd moves on to the Village Playing Fields behind Borth's Community Hall for food, fun and games, wardens of the CCW Ynyslas Nature Reserve hold workshops with children to create special themes for Borth Carnivals, crowds of locals and visitors line Borth High Street to watch the colourful parade, a sight not to be missed.
A collection is made during the Carnival and this is shared out between the most various deserving causes in the village ie RNLI lifeboat volunteers, Senior Citizens, Borth Fire Station Volunteers, Borth Train Station Volunteers, Plant Dewi (Borth Family Centre) and many many others over the years, So take plenty of change with you, as each float will have collection receptacles on board, and the walkers too.
At the Borth Community Hall and Playing Fields, usually a Councillor and the Carnival Queen hand out prizes to winning individuals, groups and floats, and there are many other activities and refreshments for children and adults as well. The Carnival brings Borth Village and villagers together, and everybody, young and old, puts so much effort into it, you cannot but be carried along with all the efforts on this Special Borth Carnival Day every year.
Borth Carnival Day Friday 2nd August 2013