Borth British Legion Schedule of Meetings and Events 2018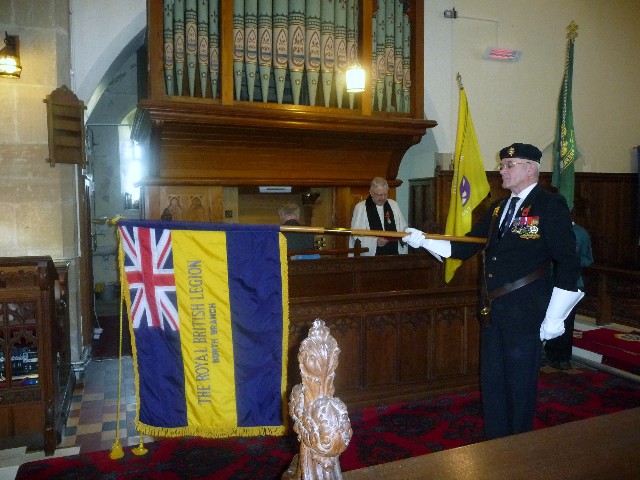 British Legion (Borth Branch) St.Matthew's Church, Borth. Remembrance Sunday 13th Nov 2011 John Walton Standard Bearer and Revd David Williams Assisting with the service
Non-members welcome at all Meetings
Exhortation
They shall grow not old as we that are left grow old. Age shall not weary them, nor the years condemn. At the going down of the sun and in the morning, we will remember them. We will remember them.
Ni henieddiant hwy, fel ni a adawyd, ni ddwg oed iddynt ludded,na'r blynyddoedd gollfarn mwy. Pan êl o'r haul i lawr, acar wawr y bore ni a'u cofiwn hwy. Nid a'u cofiwn hwy.
2018 Diary of Events
| | |
| --- | --- |
| DATE | PROPOSED EVENTS |
| Wed 14th Feb | Talk by Rev. David Williams |
| Sat 21st Apr | Anzac Day Dinner Llety Park Lodge,7.00 for 7.30 p.m. |
| Mon 28th May | Legion Stall at Charities Fair - 10.00 a.m. - 1.00 p.m. |
| Wed 30th Jun | 6.00 p.m. (Armed Forces Week) Concert at 7.30 p.m. in Hall |
| Wed 29th Aug | 6.30 p.m. Act of Remembrance at Cliff Top Followed by Social Evening in Hall 7.30 p.m. |
| Wed 26th Sep | Speaker (to be confirmed) |
| Fri 9th Nov | 7.30 p.m. A.G.M. |
| Sun 11th Nov | 10.50 a.m Remembrance Service in St.Matthew's Followed by Buffet Lunch in Borth Hall |
| Sat 1st Dec | Legion Stall at Christmas Charities Fair 10.00 a.m. - 1.00 p.m. |
Kohima Epitaph
When you go home, tell them of us, and say: For your tommorrow, we gave our today.
Pan ewch adre'n ôl, soniwch wrthynt amdanom, a dweud: Er mwyn eich yfory chi, fe roesom ein heddiw ni.